Deerfield River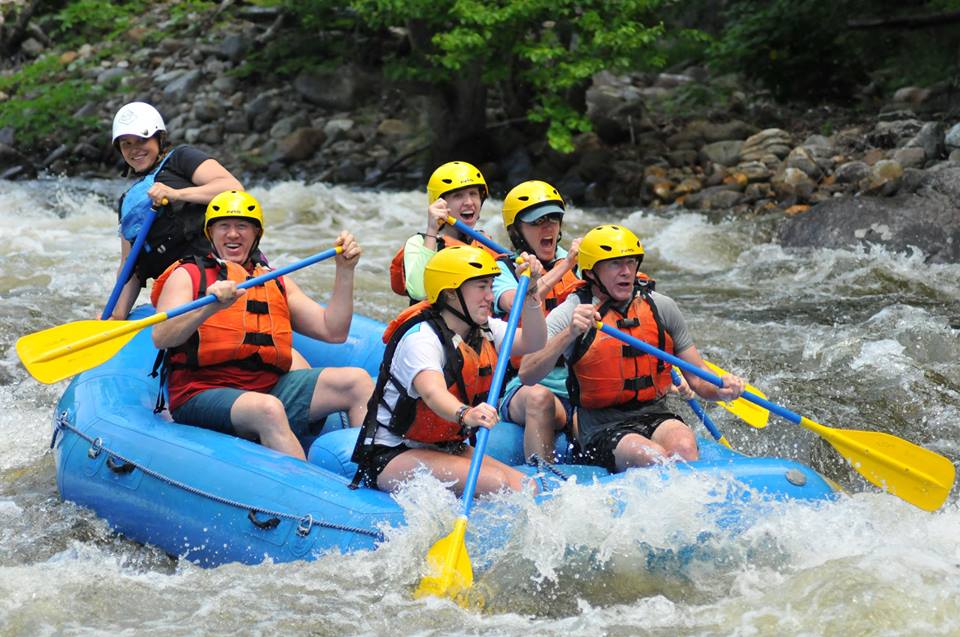 Recently, Zoar Outdoor was named the 5th best rafting company in the nation by a USA Today readers' poll. An expert panel chose 15 rafting companies around the country to vote from, and then readers voted, placing Zoar Outdoor in Charlemont at number 5. This is a great accomplishment, not only for Zoar, but for our area too. It shows how Franklin County is a place with top outdoor companies and natural attractions worth visiting.
Zoar offers a variety of activities on the Deerfield River. They have rafting trips for small children and first-timers on the river, to adrenaline junkies seeking a thrill. The float trip is a great way to experience the scenery and enjoy the river in a relaxed way. The Zoar Gap rafting trip is a nice way to experience more intermediate whitewater and the Dryway rafting trip is for those ready to paddle as a team and hit bigger features on the river. Guests can also experience the river from a kayak for an afternoon on the Guided River Kayaking tour or learn to whitewater kayak in one of their instructional clinics. Off the river, Zoar has tours on the first Zipline Canopy Tour in Massachusetts and rock climbing tours.
Two other outfitters also operate on the Deerfield and offer a great customer experience. Crabapple Whitewater offers rafting and inflatable kayak tours, and Berkshire East has their own whitewater rafting team, as well.
The Deerfield River is also enjoyed by fly fisherman. The river has a mix of wild and stocked trout. Due to the scheduled water releases, the water stays cold through the summer. However, the river requires a skilled navigator to maneuver around rocks and through sections of whitewater rapids. Fortunately, there are plenty of guide services operating on the Deerfield river, ready to show fishermen the best spots to find fish:
Jonathan Bunker – http://squaretailanglers.com/
Mike Didonna – http://www.deerfieldflyshop.com/
Walt Geryk – http://neffguide.com/ma.html
Eric Halloran – https://fishtalefabricators.com/
Dan & Tom Harrison – http://www.harrisonanglers.com/
Chris Jackson – http://www.flyfishthedeerfield.com/
Brian Lynch – http://www.pheasanttailtours.com/
Overwatch Outpost, Charlie Ricko – http://overwatch-outpost.com
The Deerfield River can also be enjoyed just as much from shore. There are several great swimming spots along the river. Shunpike rest area in Charlemont has a nice small beach and great rocks for lounging. The river is also relatively shallow in that spot, making it nice for wading out into the water (depending on the water release level). The Zoar Picnic Area in Charlemont is also a great spot for setting up a picnic. There are plenty of tables and camping grills to have a BBQ and hang by the river.
--
Sources: http://deerfieldrivertroutunlimited.com/local-fly-shops-and-guide-services/
http://franklincc.chambermaster.com/news/details/news-release-8-6-2019-30
https://www.flyfisherman.com/editorial/the-deerfield-river/151807
Photo Credit: Bob Story Photography
The Deerfield River is a beautiful landmark of our area. It draws people from all around to take advantage of its majestic waters, abundance of fish, and relaxing shorelines. Celebrate the Deerfield River this weekend with Zoar Outdoor and American Whitewater at the Deerfield River Festival in Charlemont, MA.
All weekend long, Friday, June 28 through Sunday, June 30, Zoar Outdoor is offering free mini clinics for paddlers with some experience, seeking to improve their skills. This is a great opportunity to connect with other canoeists and kayakers and to pick up some tips from the Zoar instructors. Various outdoor sales representatives will be hanging out too, showing different boats and gear. You can pre-register for the clinics at Zoaroutdoor.com/demofest.
Then, on Saturday night, there will be a big party at the Charlemont Fairgrounds in celebration and appreciation of the Deerfield River. Enjoy live music, beer, and food, while you bid on auction items to support American Whitewater, the primary advocate for protecting whitewater rivers throughout the United States. You can also watch raft guides compete in the raft guide olympics, a series of rafting themed competitive events. Pitch a tent and camp at the fairgrounds after the festival.
More information at americanwhitewater.org.