In past years on Black Friday, the village of Shelburne Falls has come alive with vendors, performers, lights, and festive decor to kick off the holiday season with their annual Moonlight Magic event. Shops would stay open later and offer special deals to encourage holiday shoppers to support the small local businesses. Unfortunately, there will be no Moonlight Magic this year. Therefore, it is more important than ever to support our local businesses this holiday season. Many shops have expanded their online stores, making it easy to purchase items from them without having to enter the store.
Small Business Saturday is on Saturday, November 28 this year. Support our local economy by shopping local on this day and throughout the season. Here are some shops in Franklin County with online stores where you can find great locally made gifts for your loved ones this holiday season: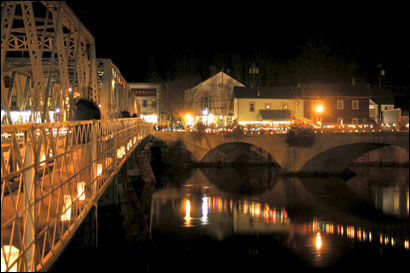 Salmon Falls Gallery - Gallery in Shelburne Falls representing 90+ local artists and the glass art of Josh Simpson
Shelburne Artisans Coop - A Gallery in Shelburne Falls of Fine Arts and Crafts owned and operated by regional artists
Ann Brauer Quilt Studio - Original modern art quilts that capture abstract landscapes using fabric and color made by Ann Brauer in her studio in Shelburne Falls
Molly Cantor Pottery - Handmade pottery inspired by New England nature and life
Zawalich Woodwork + Design - Custom woodwork including electric guitars!
Bridge Street Bazaar - Bohemian lifestyle boutique in Shelburne Falls
Love Marjorie - Ethically handmade gifts that are beautiful and functional
KeenEye Photo & Collections - Film photography supplies, antiques, and collectibles
Al Ladd, Woodworker - Fine edge woodworking
Marilyn Beal, Dyed Naturally - naturally dyed scarves
Morrell Metalsmiths - Handcrafted ironwork for your home
Rag Hill Farm - Functional fiber art
Moonshine Designs at Kedalby Farm - hand dyed, hand woven goods using mohair
Pegathus Design - Calligraphy and Color Judaica and more
Mason Willard Photography - New England nature photography
Inge Jockers Jewelry - Handmade jewelry by local artist
Happy Holiday Shopping!
--
For more information about community happenings and real estate news visit Wanda's Blog at www.wandamooney.com/blog.