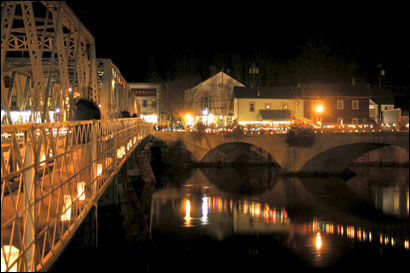 Moonlight Magic returns to Shelburne Falls to kick off the holiday season in a joyous way. Moonlight Magic is held on Black Friday (the day after Thanksgiving) every year as a way to bring the community together in excitement for the holidays, while supporting our local shops, businesses, and artisans. This Friday, November 26th, 2021 the events start at 4 pm, when shops stay open later, vendors line the streets, and the holiday lights turn on throughout the village.
The events continue through 9 pm with a Moonlight Magic Parade through downtown, plus a boat parade on the river! There will also be a special lighting of the community tree, visits with Santa, carolers, and performances. Especially fun this year will be Mo's Fudge Factor's Truffle Shuffle, a truffle scavenger hunt through the village! Be sure to buy tickets in advance for the Truffle Shuffle as there are only a limited number available.
Moonlight Magic is a great opportunity to do your holiday shopping. Be sure to stop by the book sale at the Arms Library, the craft fair at the Eagles Club, and the Makers and Artists Pop-Up Shop at The Mill on Conway Street. Not to mention, all the vendors and shops to explore throughout the village.
And of course, it wouldn't be Moonlight Magic without lots of delicious food. Be sure to visit the many food vendors along the street or check out the local restaurants and eateries.
For the full schedule of events and other information, go to shelburnefalls.com.
--
For more information about community happenings and real estate news visit Wanda's Blog at www.wandamooney.com/blog.